This post may contain affiliate links, read our
Disclosure Policy
for more information. As an Amazon Associate I earn from qualifying purchases, thank you!
Hello! I am so happy to be filling in today while Michelle is taking care of her new bundle of joy. My name is Lindsay and I blog at My Creative Days.
Since this is my first time here, I thought I would start off by telling you a little more about me and my blog. I have been married to my "behind the scenes" handyman for 15 years. We have two amazing kids and enjoy making changes to our small, 1960's home. I started my blog to share the creative ways we do things to decorate our home, entertain our kids and throw fun parties without breaking the bank. I have always worked with a tight budget and finding creative ways to live life within those limits is a passion of mine. Being able to share it all on my blog has been such a rewarding experience and I would be thrilled to have you stop by and say hello!
Today, I am sharing the Homemade Valentines we are making for my daughter's 4th grade class.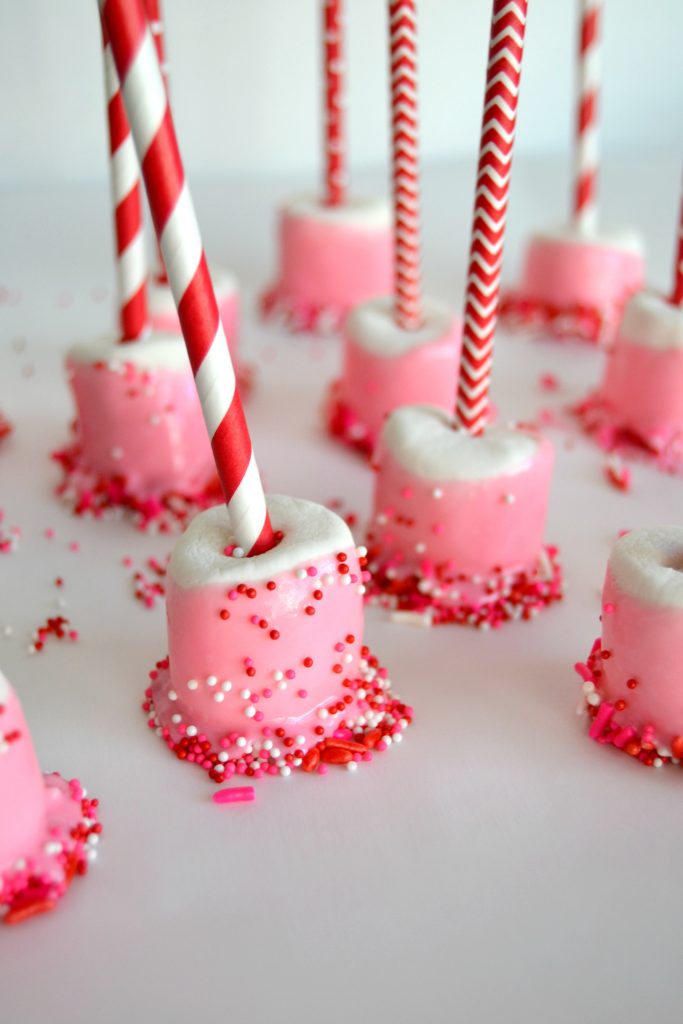 When I was in school, the Valentine's Day party was one of my favorites days at school. I loved making valentines for my friends and I loved taking home my stuffed shoe box full of the valentines my friends made for me. Now, I still get giddy when my kids start planning what they want to take to their classmates each year.
This valentine is adorable, easy and less expensive than the packaged valentines in the stores. Kids can make them on their own and they are fun to eat. It is a win-win all around.
Homemade Valentines:
What You Will Need
1 package regular-sized marshmallows
1 container vanilla frosting
Red food coloring
Wax or parchment paper
Homemade Valentines:
How To Make Them
First, put half of the container of frosting in a microwaveable-safe bowl. Heat it for about 15-20 seconds. You want it the consistency of melted chocolate so you can easily dip the marshmallows.
Once the frosting is melted, mix in a few drops of red food coloring.
Now, it is dippin' time!
Put a valentine straw in the middle of a marshmallow and dip it in the frosting.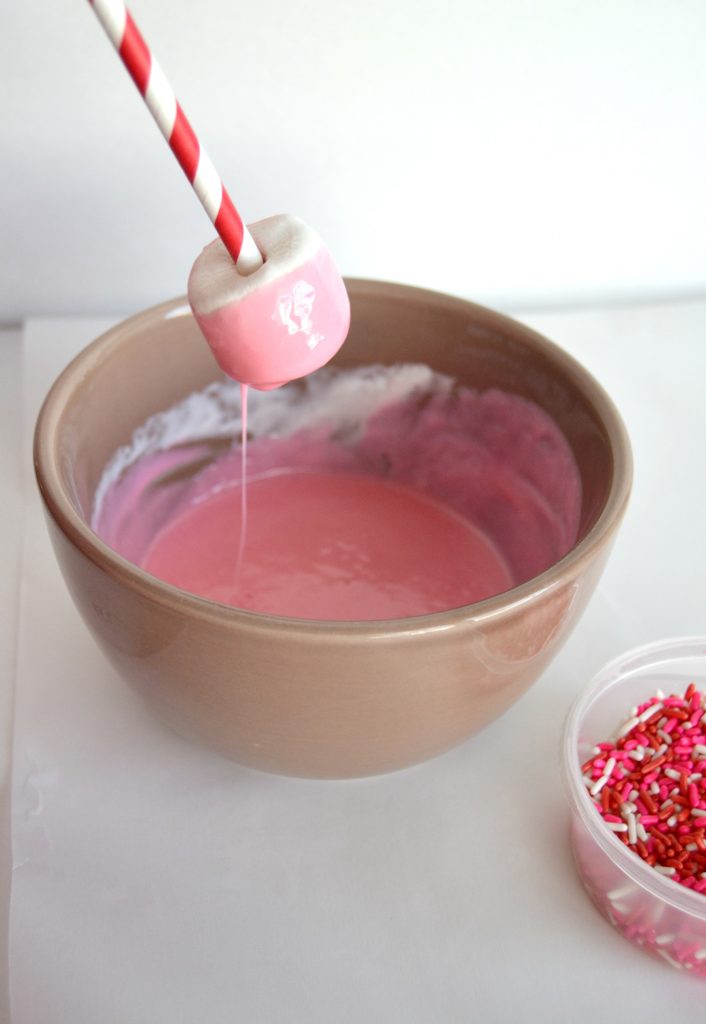 Let all the excess frosting drip off.
Now, dip the end of the marshmallow in the valentine sprinkles.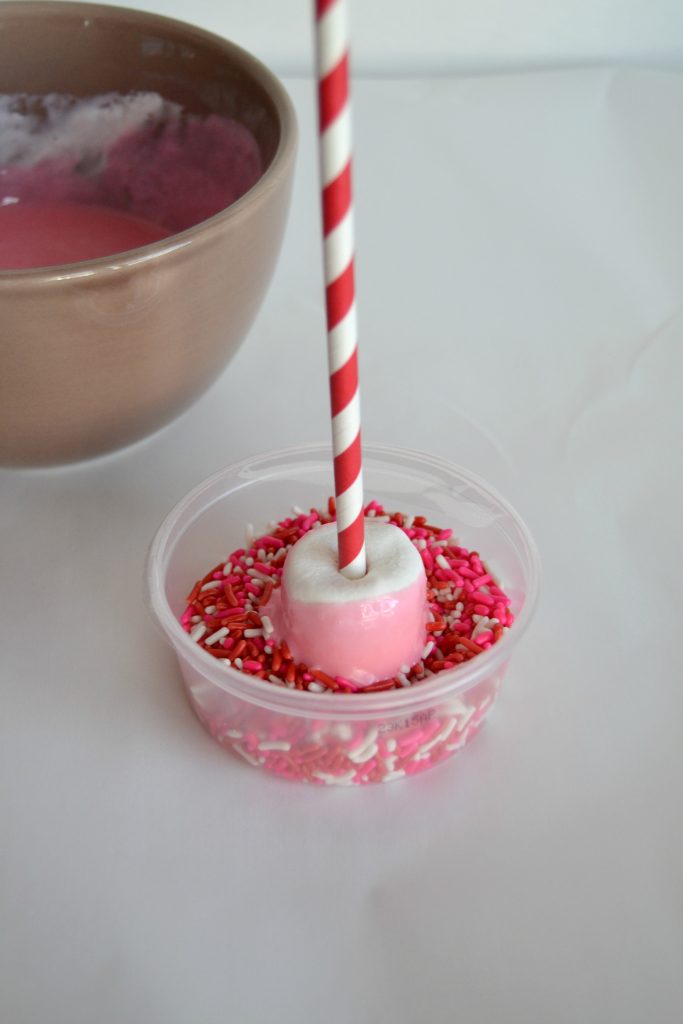 Once you have the bottom of the marshmallow full of sprinkles, set it on wax or parchment paper.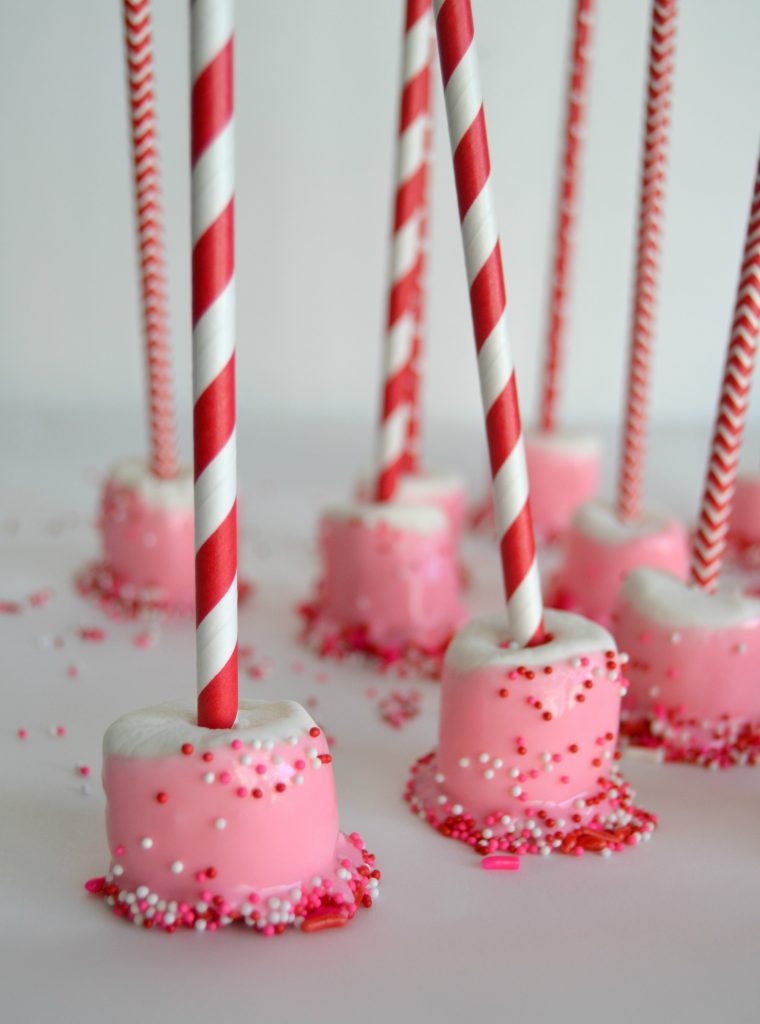 My daughter added a few more sprinkles to the side of the marshmallows too. :-)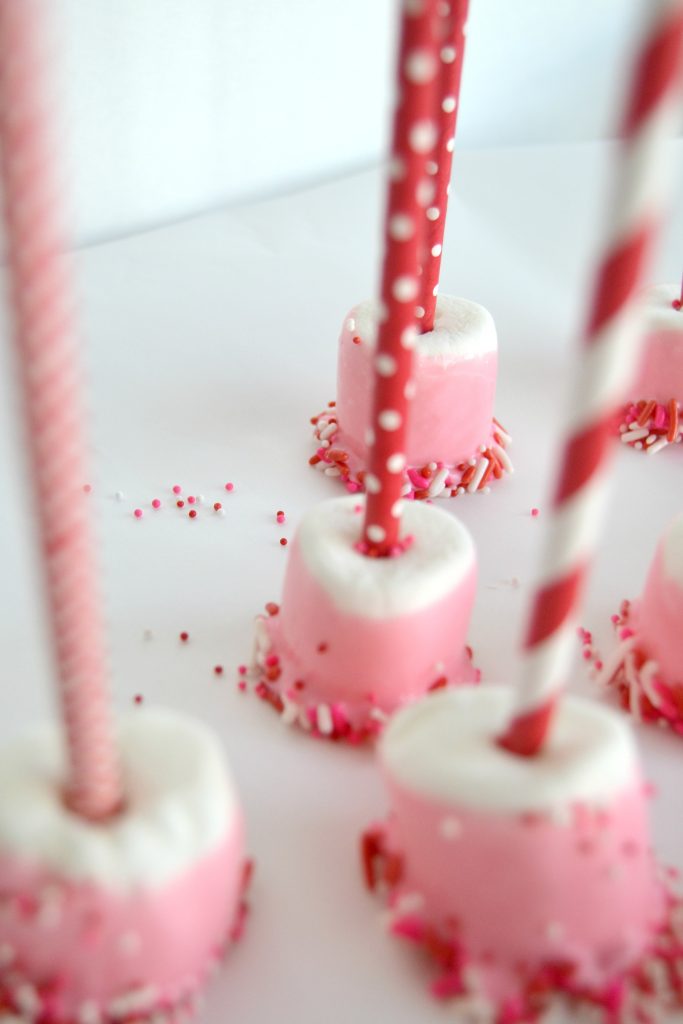 I made a "summer" version of these last year and my kids loved them. When we were thinking about valentines for her class this year, these came up and we knew we could make them perfect for Valentine's Day.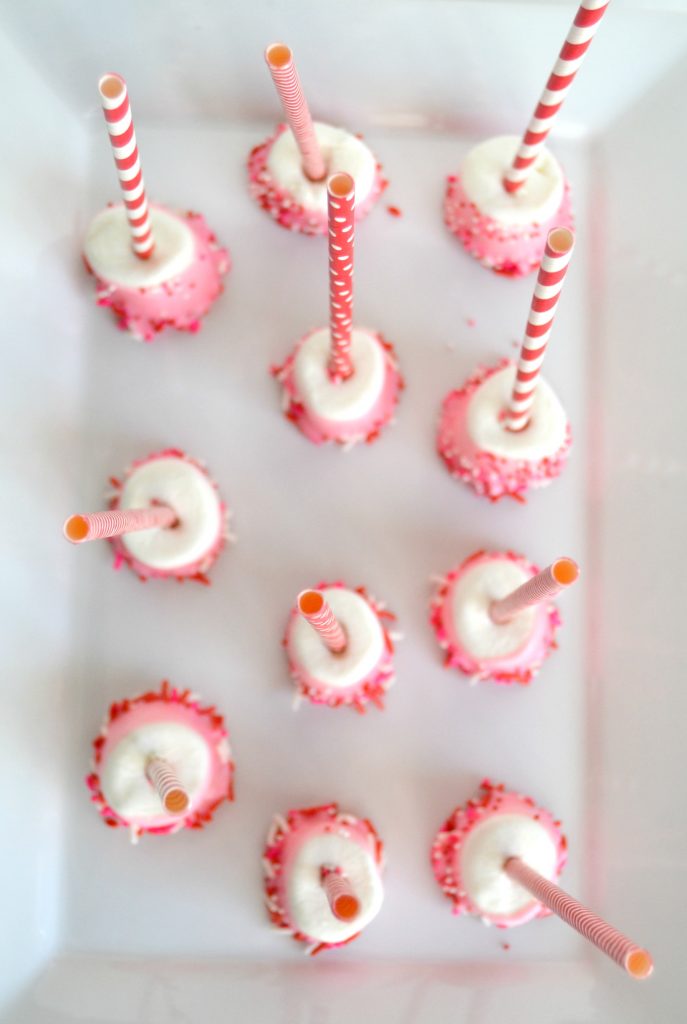 Once the frosting is set, put them in valentine-themed treat bags.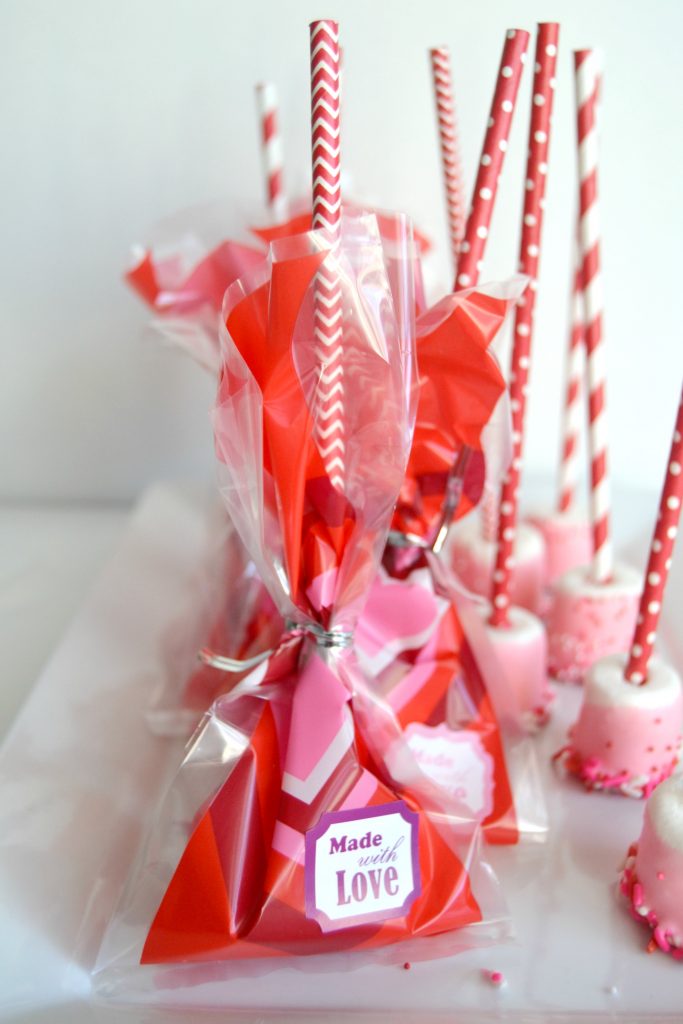 I found these "Made With Love" stickers at Michaels. They weren't anywhere near the valentine supplies, but they are perfect for Valentine's Day. Better yet, they were on clearance! (You can find similar ones here*.)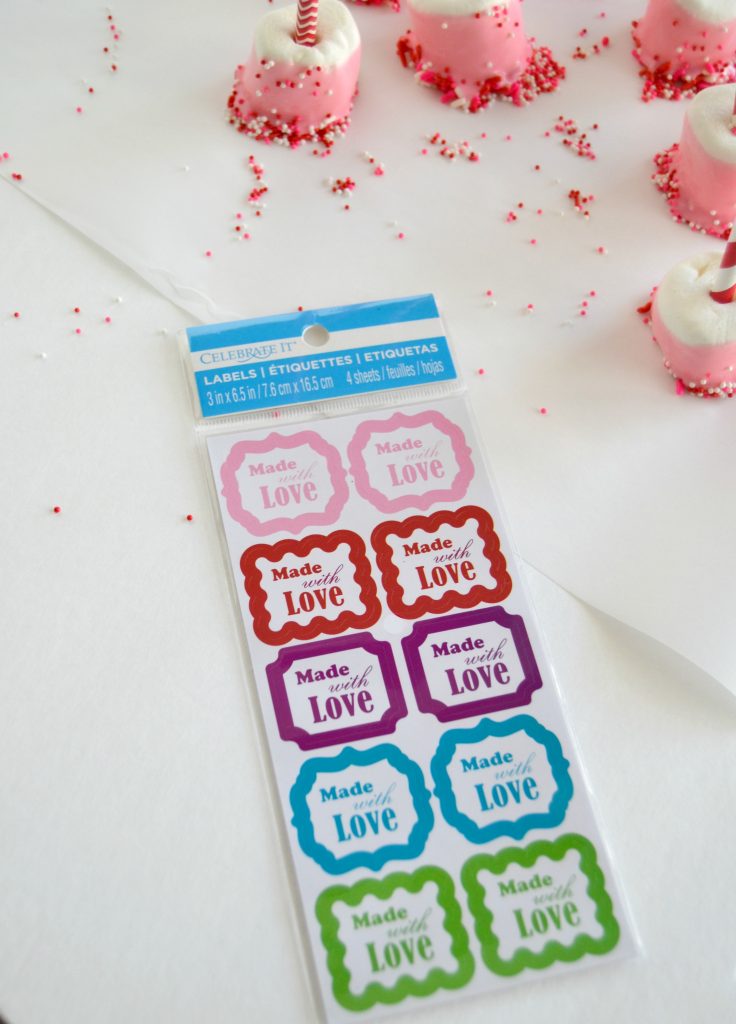 We stuck them on the outside of each treat bag.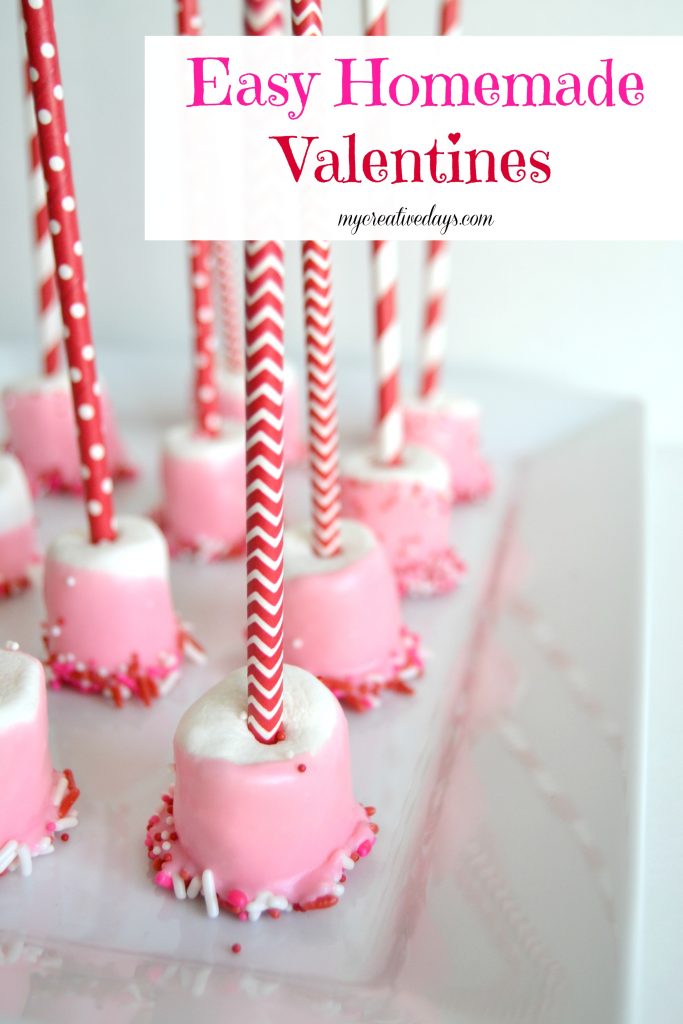 My daughter is super excited to hand these out to her classmates. It is a lot of fun to cook and/or craft with my kids. The conversations are always great and the memories we make are talked about again and again.
*denotes affiliate links